3 Easy Steps to Getting New Countertops
"There's no place like home."
That phrase is true than ever today as the Covid pandemic has fundamentally changed how we see and use our homes.
People are spending significantly more time in their homes than ever before.
Spending so much time at home makes you look around and imagine some changes, whether making something more practical, or adding some charm to your home.
Getting new countertops can transform the look and functionality of your kitchen. It will have a lasting and meaningful impact on you and your home.
With that in mind, let's go over the 3 easy steps to getting beautiful new countertops.
1. Consult A Countertop Professional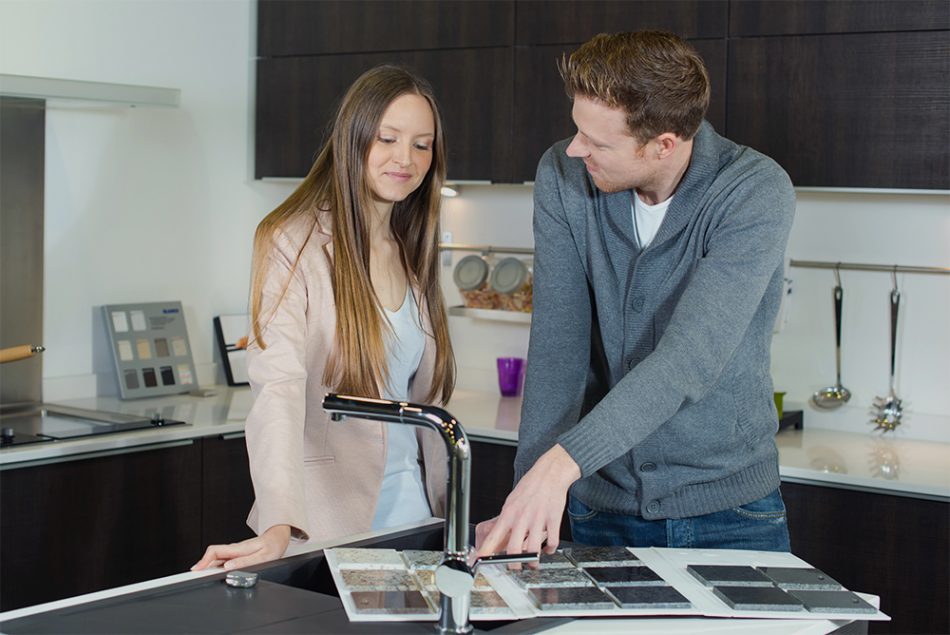 The first step is where the magic happens.
Avrio Surfaces offers advice to help you better understand your options for countertop materials, designs/colors/finishes, applications, and cost.
The Benefits of our Free Design and Estimate Consultations Include:
✔️ We bring our showroom to you. Our reps are equipped with product samples so you can touch and feel your next countertop before making any decisions.
✔️ Knowledgeable and experienced design consultants. Avrio Surfaces has spent the last 15 years selling, fabricating, and installing countertops. We know everything there is to know about countertops.
✔️ A holistic approach to countertops. Picking the perfect countertop for your space becomes easier when you consider the floors, cabinets, walls, and lighting of your home as you make your decision.
✔️ On-the-spot quote. We can typically provide a cost estimate before we leave your home.
✔️ Convenience. We come to you. No need to run from showroom to showroom.
Our design consultant will be sure to understand your needs and budget in order to provide you with the best options.
Not ready for an in-home consultation? No worries. We also offer remote video consultation to help you explore your options.
2. Choose Your Dream Countertop Material/Color, Edge, and Add-ons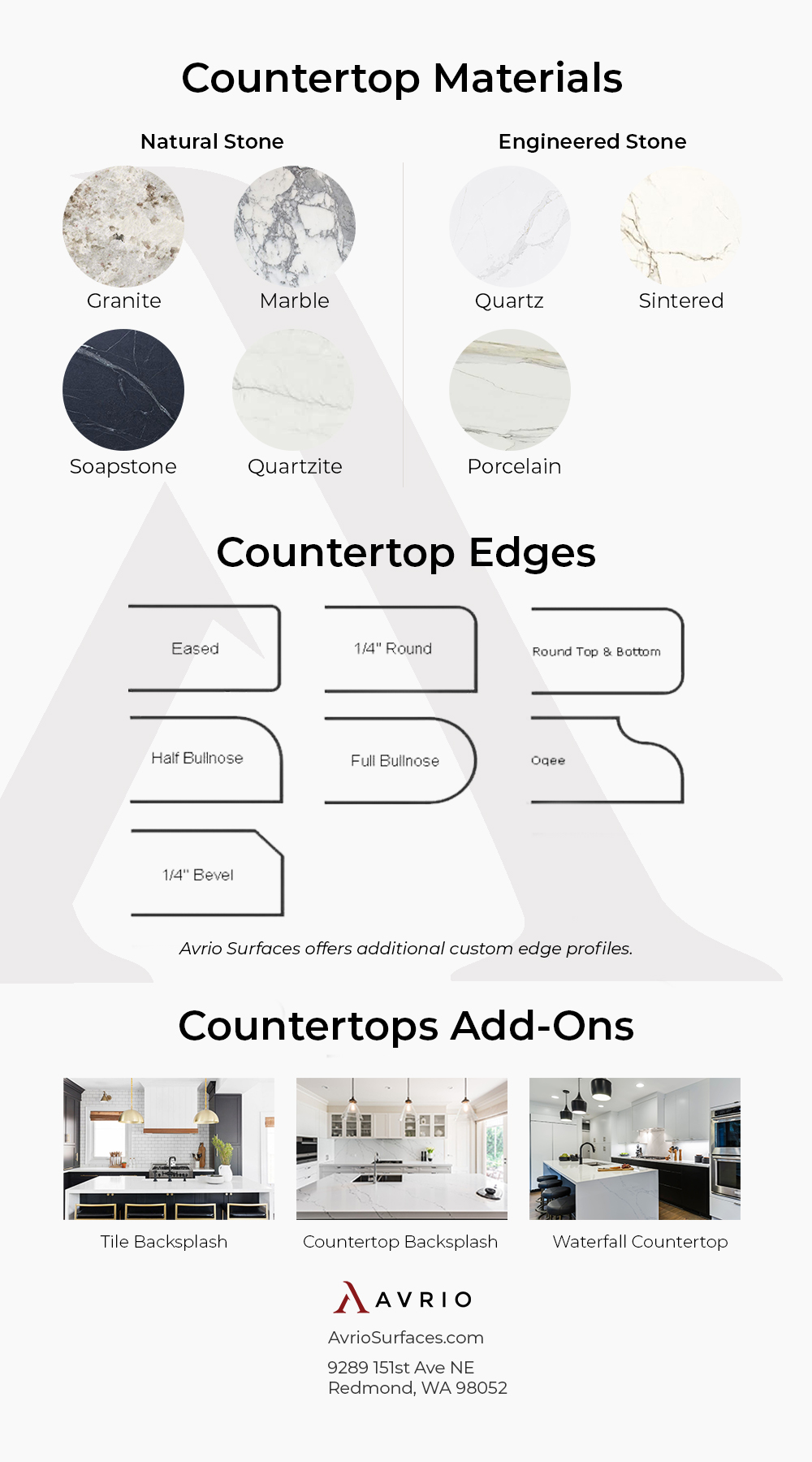 After reviewing your countertop options and quotes with our stone consultant, you'll always time to make your final decision.
With all the incredible options in material, color, finish, and custom add-ons, we know it's not easy to choose.
After all, your choice will determine what you see and use in your kitchen every single day for years to come. Maybe even decades.
Avrio's countertop consultants will help you consider all the possibilities — regardless of your price point.
3. Expect an Enjoyable Experience from Template to Completion
What's next?
After careful consideration, you've finally decided on your perfect countertop material, color, and options. And you've placed your deposit.
Avrio Surfaces will coordinate dates and times for the measurements and installation of your countertops.
You can expect to get your countertops in 7 to 10 business days after our template technician measures your countertops.
Avrio Surfaces provides a hassle-free experience, with additional benefits as part of a full-service package.
⭐️ Digital layout to visualize how your countertop's pattern flows
⭐️ Countertop and backsplash demolition
⭐️ Plumbing
⭐️ Tile / countertop backsplash installation
Since we started in 2006, Avrio Surfaces has installed more than 20,000 countertop projects all over the Pacific Northwest.
You can trust the Avrio team for premier countertop craftsmanship.
Look at our countertop projects which have been featured in Country Magazine, Kirkland Lifestyle, Homes + Gardens, Elle Decor, and more.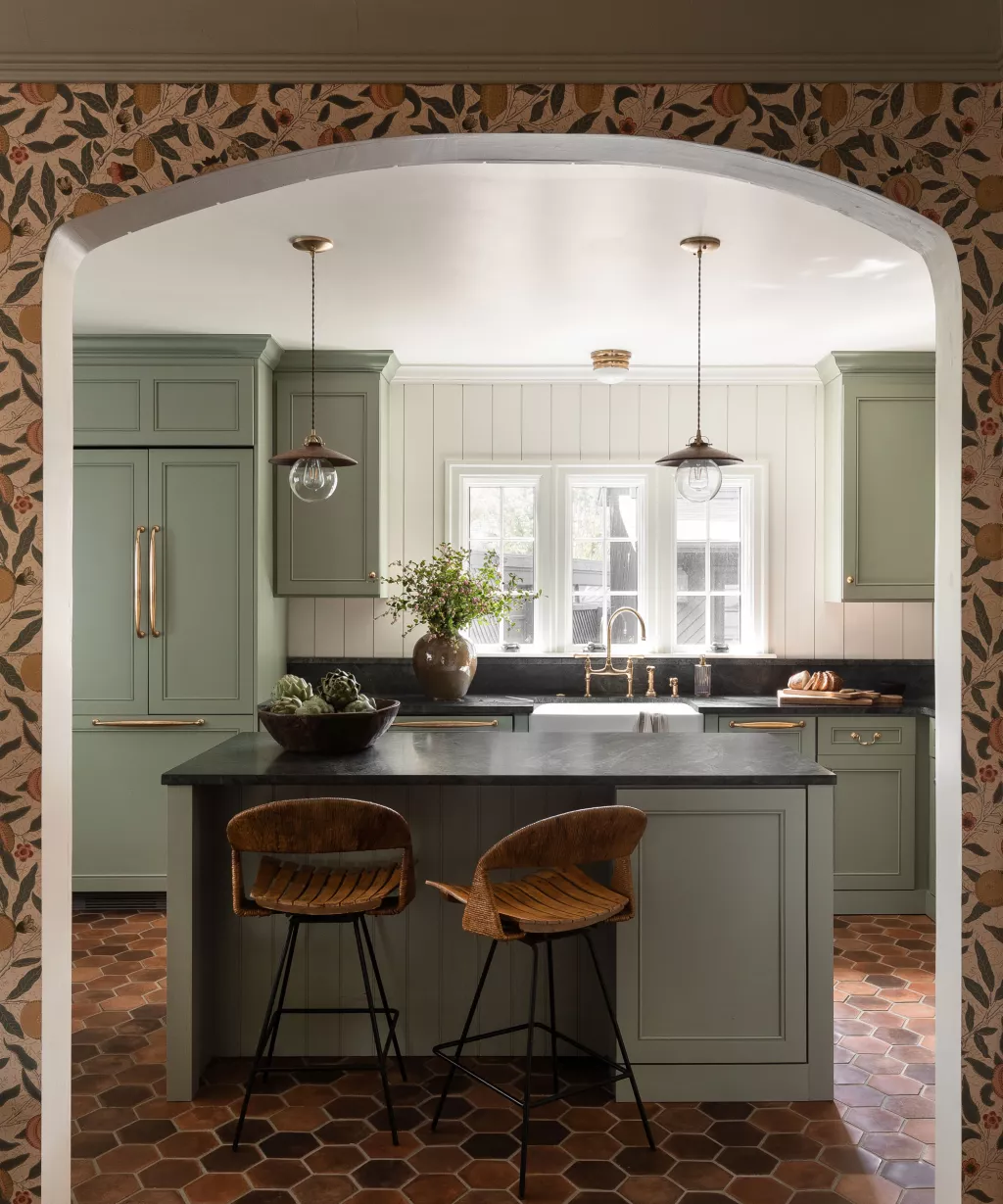 Homes & Gardens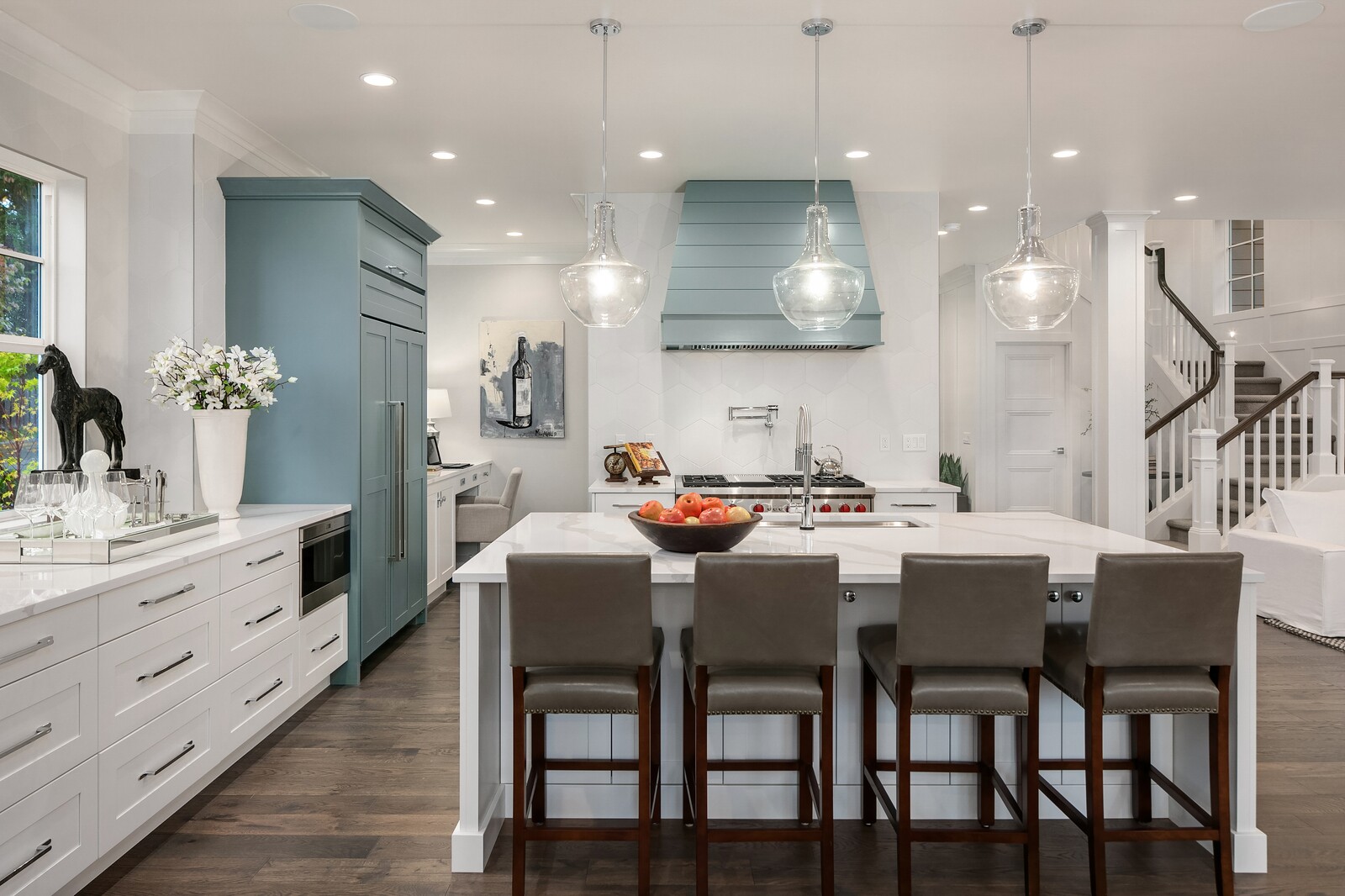 Kirkland Lifestyle
Here's what our previous clientele have to say about us:
"Avrio Surfaces was exceptional from start to finish. From the initial phone call and install down to the invoice was perfect. I highly recommend Avrio Surfaces for your future countertop project." — Ryan W. (Snoqualmie)
"Wow! I cannot say enough good things about this company! The quality of work, the selection, the care in which they measured and installed the countertop and backsplash, and the follow-up when everything was done…just wonderful!" — Debra M. (Seattle)
Are you ready to transform your kitchen with beautiful new countertops?
Skip the middle man and purchase your countertops from your local boutique countertop shop. You'll get personalized service, competitive pricing, and a fast turnaround.